About ScoutWired
ScoutWired is the world's best online Scouting Communication Network! (Probably)
ScoutWired was formed on December 7, 2015. We are here to provide a Safe Place for Scouts to communicate with each other online.
The internet is an amazing resource for communicating with Scouts from all over the world and our goal is to open this opportunity up to every Scout in every country, no matter what. Youth Leadership is at the core of everything we do.
We are a truly international organization with Team Members and Users from all over the World. We aim to provide as much support as we can for Scout groups and individuals involved in Scouting, to get online and connected with each other, especially during JOTI, where we will be providing services to get Scouts talking to each other and meeting other members of our Scouting family on an international level.
ScoutWired Discord Text and Voice chat

Discord is the platform ScoutWired use to provide our Text and voice chat communications. We have a trained team that moderate and keep our users engaged in a safe environment. You can join at https://discord.scoutwired.org.
When you join you will see that Discord require users to be 13+, and therefore we recommend that parents supervise their children while using discord, like any online platform. You can find more info about the ScoutWired Discord and read our rules here.
We also have a 10 min wait before you can post in our server, so it gives you time to read and accept the Frequently asked questions (FAQ's) At this stage you can also see the opt in channels and select channels that cover your interests and other languages. You can then join in on the text and voice chats on ScoutWired.
Our Safety Measures
At ScoutWired.org we strive to provide all the fun of an international Jamboree from the comfort of your own home. One part of this is ensuring that our online servers are safe spaces for anyone to enjoy. We have worked hard to make our services safe spaces and will continue to focus on this in the future.
In the context of Scouting, keeping children and young people safe from harm encompasses all areas of child and youth protection work, and includes a full range of strategies, systems and procedures that aim to promote that the well-being, development and safety of children and young people is a priority in all Scouting-related activities.
In accordance with the WOSM 'Safe from Harm' Policy, ScoutWired is an advocate for online Scouting activities. This means that we evaluate and scrutinize our servers and services when we make changes, introduce new content, update or innovate on existing technologies, and most importantly on security features and data protection. ScoutWired is a registered incorporated association and has mandatory reporting for data/information breaches or theft, along with robust policies and procedures to manage data and information.
Voice Chats and How do you enable push to talk and why do you need it?
From time to time we open voice chats for our users to interact with each other with voice. In order to join in on a voice chat you need to enable push to talk so you can communicate. To do this you need to go to the settings which can be found on the bottom left of the screen under the cog near your name. Then go to Voice and Video settings and enable Push to talk. At this point you then need to set a shot cut for push to talk. All this means is that whatever key you choose here that's the key you push down to speak in voice chats.
Our voice chats are only opened when we have at least 2 trained team members so that our users are kept safe in a moderated environment.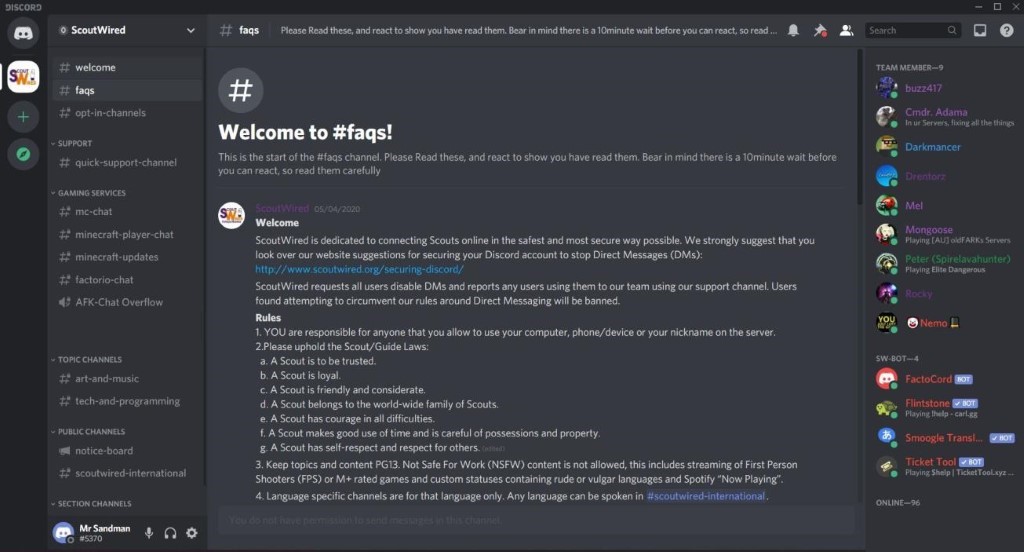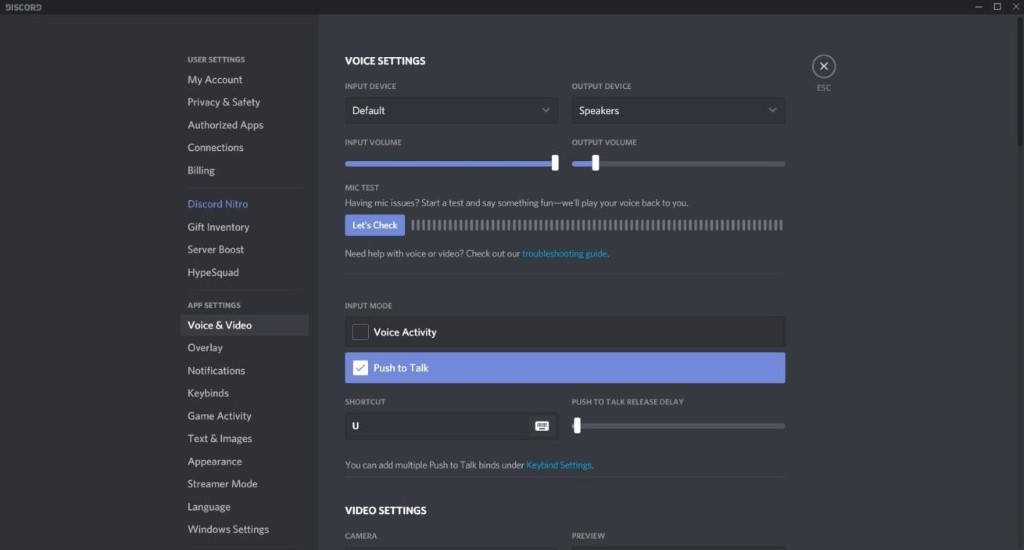 ScoutWired Games

We have a dedicated Minecraft server that can be found at minecraft.scoutwired.org. In order to join our Minecraft server, you need to have the JAVA edition of Minecraft installed on your computer. At this stage we do not support the pocket/bedrock (tablet or Xbox) edition of Minecraft. ScoutWired has both a creative and a survival world. During JOTI we will have build-battle events and mini games running throughout the weekend, the server is up 24/7 so join in today and join the fun.

ScoutWired has a dedicated Factorio server. This is a game that users work as a team to build a factory that launches rockets into space. We run this year-round, but during JOTI we will be having a 48-hour challenge to see if we can manage to get one rocket into space per minute by the end of the weekend. Factorio can be bought from https://factorio.com/ or though Steam. Once in the game lobby search for ScoutWired to join our server. You can find our server rules here https://www.scoutwired.org/factorio-rules/